A Journal For Your Meditation Practice.
Thoughtfully designed and elegantly crafted, The Mindful Ledger is your companion to enhance your meditation practice.
LEARN MORE
What Our Mindful Customers Are Saying
I absolutely love my journal. Meditation has not been easy for me, and the journal has helped me stay accountable and understand which meditations work better for me. I love the layout of the journal and love filling it in. Overall I notice I am much less stressed and mindful from incorporating the journal into my meditation routine.
What Our Mindful Customers Are Saying
I always had a hard time committing to my meditation everyday. Mindfulness and meditation have always been very beneficial for me and thanks to the journal I now keep myself accountable. I am able to track my progress or area of growth.
The Ledger
Your personal database to record time spent meditating.
The Journal
Record details from your practice, including notes and observations gained from your session.
Build Consistency. Get On A Streak.
Mark down time spent meditating each day. Record your streaks. Tally up your overall time spent meditating at the end of each month. Measure your results over time.
Disconnect and Listen To Your Inner Voice.
Tap into your awareness. Record your thoughts and experiences. Develop your mindfulness muscle.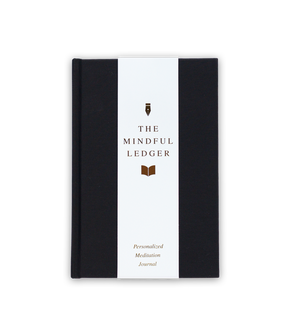 The Mindful Ledger
Sale price Price $29.99 Regular price